The World's Tiniest Inkless Pen
Ever needed a pen and couldn't find one? This pen sits on your keys and never needs refilling.
One Pen with so many uses
Here are just a few of them:
Write with it
Jot down notes
Cut with it
Slice open boxes
Dive with it
Write underwater
Survive the elements
Fire Resistant
Precise down to the millimeter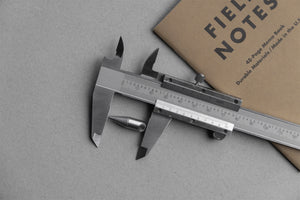 With a carry hole and a total length of just under an inch, it integrates seamlessly to any EDC
As its name suggests, the pen's rugged, weather-proof construction will ensure it lasts as long as you do
This pen measures less than an inch. Oh, and it can also write upside-down, in zero gravity, and underwater
The perfect no-waste writing utensil for avid writers
Any Questions?
Here are a few questions and answers that come up frequently:

The laws of physics tell us no, but since it lasts much, much longer than any other pen, we figured this name would get the point across.

Tips: Non-toxic Silver composite.
Body: Grade 5 Titanium

Our pens do not contain lead or any other toxic heavy metals.
The pens use a non-toxic composite made with Silver.

ForeverPen
Length: 26mm (~1 inch)
Diameter: 8mm (0.3 inches)
ForeverPen Pro
Length: 64mm (~2.5 inches)
Diameter: 8mm (0.3 inches)
The hole helps you attach the pen to your keys, carabiner or anything else.
It's situated at the end of the ForeverPen and ForeverPen Pro.

We offer $2.99 shipping to every single country in the world!

We offer a one year warranty against any manufacturing defects.
If you need assistance, please contact us at the links below.